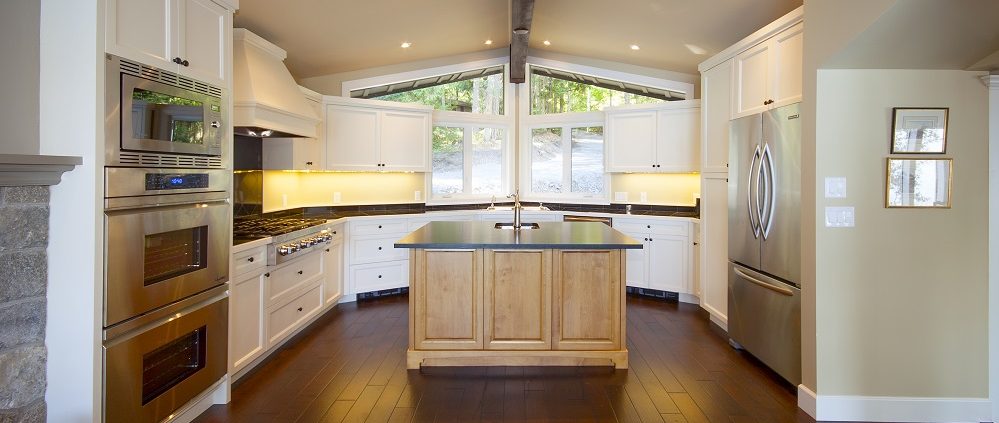 So, you want/need a new kitchen!
The planning for a new kitchen can be daunting as you consider the following:
Consider the construction required to change or remove walls, bulkheads. etc…
Plumbing – are your renovations going to require minor or major plumbing updates?
Electrical – are your renovations going to require minor or major electrical updates?
The overall design of the layout?
Specific features to be included?
Style, color and fit to the home?
Do we gut the cabinets or just re-face them with new fronts and hardware?
Flooring – update it or keep?
Painting and ceiling updates?
What type of back splash or tile?
Handles, pulls, and other hardware?
Appliances – keep or new?
What counters do I want (costs here can vary dramatically)?
Then there's always the panic question – what did I miss?
No wonder many kitchen renovations linger for months or even years! These helpful hints could get you started towards building a smart and informed kitchen plan.
1. Start Planning Early & Beware of the Unrealistic Deadline
Start early and plan to have a flexible time-line. When time is short you will be tempted to compromise in order to stay on track or you may find the price of services going up. When you have time, you can ensure you get quality work done at a fair price.
2. Get Help Managing Large Projects
Consider how much help you'll need. If the thought of making all the decisions is paralyzing, you would likely benefit from some guidance. If the renovation will involve construction you may want to consider hiring a reputable general contractor or an experienced design agency. For kitchen replacement or if new construction is required, your cabinet company may be able to provide all of the estimates and labour.
3. Assemble & Install Yourself, Hire Installers or Somewhere In-between
Cabinets can be purchased in several ways. Some outlets will sell cabinets leave you on your own to figure out the installation. This method tends to be economical if not convenient and you should be prepared to do a lot of the assembly work yourself. Other companies are like retail outlets and will purchase boxes, doors, and hardware as well as hire a builder to install the kitchen. Pricing can vary and the products tend to be sourced from different suppliers so be prepared for additional shipping and delivery times. Finally, you could go to a custom shop where they make all the cabinets, millwork and provide professional installation. The cost will likely be higher, but there will be support for the project throughout.
4. Collect Examples of Kitchens That you Like
Gather examples of kitchens, cabinets, taps, hardware, etc. Store these ideas in a folder (file folder or electronic) of the looks and features you see and like. They do not have to be consistent or make sense in the same kitchen but will tell the cabinet maker the style and preferences you want. Use websites like HGTV and HOUZZ to discover inspiration for ideas and functionality that you'd like to see in your own project. These sites are a great resource as they also publish new trends as well as storage and functional tips. You could also short-cut your search with a few hours with a design consultant as they will be able to summarize current trends and features. Considering the time savings this could be a wise investment.
5. Be Selective in Your Team
Choose your project team carefully. If you notice that they seem reluctant or difficult to deal with early in the process, this is a red flag and it's likely they will not improve later and will add unnecessary stress to the build. You want to have people who are both competent and easy to work with. The ability to have your voice heard is important; after all, it is your kitchen and your money.
6. Think Long Term and Choose Quality Products
During the design and development phase, you will some very important decisions to make with regards to the quality and finish of your kitchen. Once you have your new kitchen, you will love the early result; call it the honeymoon period. You may also want to consider the long-range consequences of choosing cheap products over quality as you might sell in 10 – 20 years. Many kitchens depreciate like an automobile, but not all are the same. We recently had some work updating kitchens that we had installed in several home homes 15 years ago. The base cabinets were still in remarkable shape, so by making minor upgrades such as adding a magic corner and spice pull-out, along with new counters and doors, we saved the owner half price on the cost of a complete kitchen. This was only possible due to the high-quality construction, materials, and design implemented during the initial installation outset.
People who value a quality kitchen will pay a premium. Conversely, when new purchasers view a tired kitchen, they over-value the renovation cost and this is often reflected this in a lower offer price for the home.
One of the best long-term investments you can do in your home is in your kitchen so take your time and enjoy watching your vision come alive!
https://islanddreamkitchens.com/wp-content/uploads/2016/10/kitchen1.jpg
761
999
caorda
https://islanddreamkitchens.com/wp-content/uploads/2016/10/idk-logo.png
caorda
2017-01-11 23:51:31
2022-01-12 12:46:54
6 Essential Tips for Planning Your New Dream Kitchen